The Perfect Summer BBQ Dessert!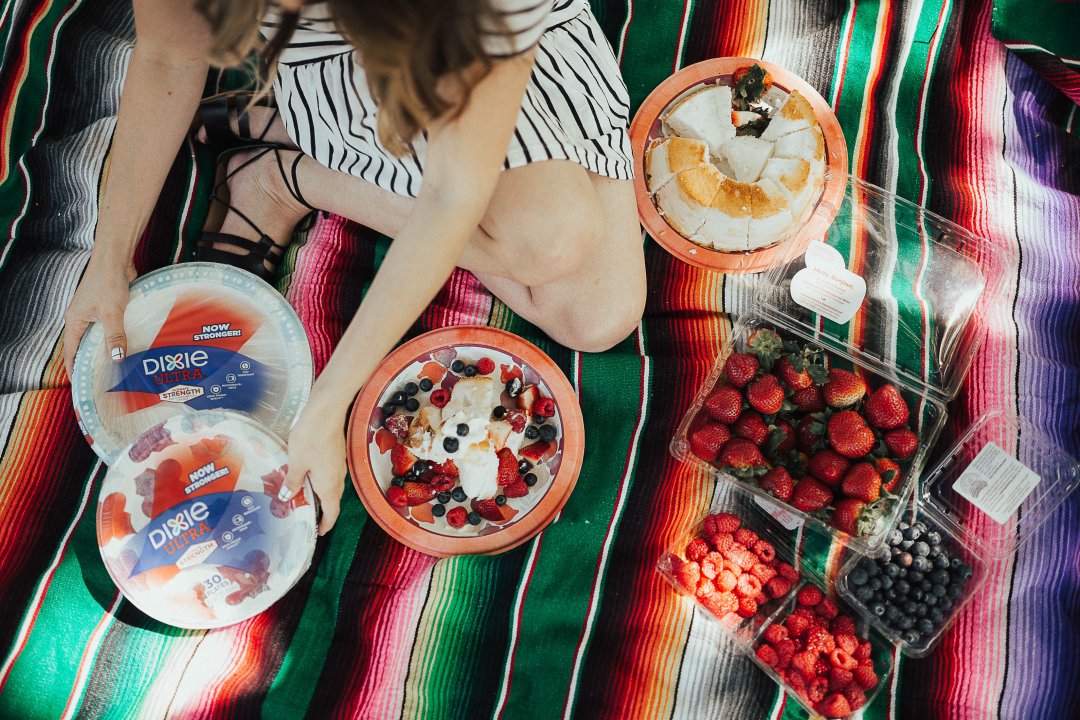 Does anyone else feel like summer snuck up on us and all the sudden it is here starring you in the face? This week has been sheer craziness if I am completely honest, like I am loosing my mind craziness. Momday is this weekend and on top of that we are shooting my living room for a reveal today, but our house isn't done so we moved all our living room furniture into it to be able to shoot it and everything else is still in storage so it has been a little hectic to say the least. We have been trying to live up summer, do all the sunshine basking and BBQ's that we can, and still keep our heads on straight with everything else going on. I wanted to share with you today a dessert that is always my go to for BBQ's because it is super fast, simple, and everyone loves it! Plus I have a couple secrets for you on making it a big hit with everyone.


Growing up we always had angel food cake with strawberries, it was a summer staple dessert. Every time that we have it now it is a little glimpse back into when I was little and trying to put all the cream on top I could without my mom noticing. The only problem we always had was that when we were carrying it our paper plates would bend spilling all of our strawberries, cream and cake onto the floor. Then we would get a look like we should have been more careful and have to clean it up and start over. Well I have a secret for you so you don't have to give anyone that look that I got when I was little or receive it either. Next time you are at the grocery store getting ready for a BBQ or just snagging paper plates so you don't have to do the dishes (I am completely guilty of that one) grab the Dixie Ultra® Paper Plates. They are so much stronger than any other plate that I have tried and they don't bend and drop your berries, cake, and cream onto the floor. You can load them up full of your favorite fruit, cake, and cream plus anything that you are having for dinner, hand it to anyone (including your toddlers) and they won't bend. I mean, your toddler may drop it because that is just how they are, but I promise you it won't bend or be unsteady. Dixie Plates are strong & confident, just like you girl, isn't that what you want at a BBQ?! Better pull out those white jeans because your plate isn't spilling on you! It is game changing for a BBQ!


Let's chat on how to make this cake mmkay?
WHAT YOU WILL NEED:
Angel Food Cake – I am a true winner in life so I buy the boxed Angel Food Cake, judge me, ha. We love it and have it all the time.
Berries – We love Strawberries, Blueberries, and Raspberries on ours!
Homemade whipped cream – This is the true secret to the best Angel Food Cake!
Dixie Plates – So your food doesn't fall off remember?
DIRECTIONS:
Bake your angel food cake according to the directions on the box. Let it cool. When it is cooled, cut around the edges of the pan with a serrated knife, tip the pan upside down and the cake will fall off. Trust me it doesn't need to be perfect, just out of the pan. Cut the cake up into diced pieces. This is how you get the perfect amount of angel food cake to berries and cream ratio. Top with berries of choice, and make sure to get a lot! The more berries and cream the better!! Finish off with a big dollop of homemade whipped cream and serve on a Dixie Plate! Then you are ready to look like a total boss babe with serving dessert to a backyard full of friends, or even just your littles and your husband.


Oh and one more BBQ tip for you!! Make sure to buy the Dixie Ultra 10 1/6″ paper plates for dinner and the Dixie Ultra 8.5″ paper plates for dessert. The bigger plates are perfect for putting all your salads, hamburgers, and chips on while the smaller plates couldn't be more perfect for dessert! This makes it so you always have enough plates for everyone too with buying two packages of plates. And let's really be honest, who wants their dessert touching their dinner? I for sure don't!


What are your secrets to hosting or taking a dish to a BBQ? Do you have any go to recipes that you make all the time? I would love to hear your favorites and go to things! You can find more ideas for summer dishes & Dixie Plates here!
XX
dani


PS I snag all my BBQ products & Dixie Plates at Target, because well ya know, I am there at least twice a week so why not? Oh and these plates are exclusively at Target with these darling designs & you can save 25% off with the cartwheel app! Boom baby!